Stay at the best 3-star Luxurious Pool Resortin Dandeli
and enjoy its exceptional facilities Located 13kms from Dandeli City.TheTusker TrailsResort is a 3-star resort spread across acres of land. It is about 4.5 acres of wide open propertywhich has a beautiful infinity pool view rooms and exotic lake view rooms. Tusker Trails Resort is located amid green valleys and has ateak-wood plantation surrounded, making it an ideal destination for those looking for a quiet place. The SMART choice property comes with a promise of 6 assured amenities, and priority helpline support.
Divining in the Infinity Pool
With lush and landscapes gardens, this is where the resorts 40 feet long infinity pool is. The Dandeli's most easily recognisable largest outdoor pool at that height, the views of the mountains surrounded by the teakwood forest above ground level are beyond spectacular. Access to the infinity pool at Tusker Tails Resort is strictly reserved for hotel guests only.
Escape from the concrete jungle
of the city with your friends, family or colleagues visit Dandeli and listen to the dawn chorus of birds at the onset of a new day, while engaging in day long activities such as Archery, Cricket, Cycling, Carom etc. at one of the best team outing resorts in Dandeli.Mountain biking is not too famous among tourists visiting Dandeli. The activity merges the feelings of excitement and transformation to offer you a decisive outdoor experience. It is recommended to experience riding a mountain bike on the rough terrains of the region and explore the refreshing greenery, variety of flora and fauna which is worth remembering.
Evening DJ music and Rain Dance
at Tusker Trails Resort, it is one of the best indoor activity you can experience. Enjoy dancing with your friends and family in the disco on your favourite tunes.We put fun in the Funk to give you the best team outing in Dandeli in terms of experience. The activities become more interesting with the change in colour of the sky as the day passes through. Miss you should not!
Wrap Up Your Eventful Weekend with a Warm, Relaxing, & Lavishing
Campfire Session with Tusker Trails Resort. Do you want your Luxury stay experience to be enchanted by the aromatic smell of a campfire and music, which can make your weekend more adventurous and outstanding? If so, Dandeli Tusker Trails Resorts might just be what you are hunting for! This sophisticated resort at Usoda, 13kms away from Dandeli bus stop is the most excellent surrounded by greenery; this resort presents some of the most picture-perfect milieu for camping and campfire.
Trekking is one of the top things to do in Dandeli
in the woods. Moreover, visitors can explore the wildlife, nature, and birds. It is an exciting activity in the Dandeli forest, which is generally undertaken by young tourists.There are numerous trekking routes available in the area and some activities are taken care by resort trekking guides. It is always recommended to wear proper shoes, as leeches are a big worry during monsoon and winter seasons. Visitors can also enjoy short birding trails around the camp to relax after a daylong trekking route.
The Package day is not over yet. There's just something about waking up in a resort and being able to leave the room without a care in the world...and coming back after a day of fun visiting all nearby sightseeing like Maulangi Park | Disney Park | Supa Dam View | Backwaters and Crocodile Park.
Molangi Falls – Spend Quality Time
Molangi Falls – Spend Quality TimeNot just yet another picnic spot among other Dandeli sightseeing places but also a perfect place to swim out the city stress, Molangi Falls are located amidst the dense, lush green tropical forests and is one of the refreshing tourist places in Dandeli. Molangi Falls meet the mighty river Kali and this is the place where rafting ends. One can spend some real quality time at this picnic spot to strengthen their bond with their loved ones.
Location: Near Molangi
Distance from the city centre: 8 km
Places to stay: Dandeli Resorts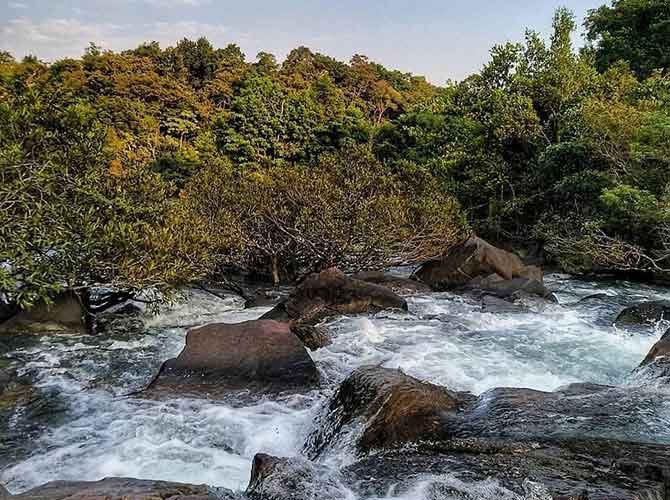 Disney Park – Heaven For Kids
If you are on a family trip to Dandeli and traveling with kids, then you are in luck as you can visit the Disney Park, which the kids are definitely going to love. It might not be in the running for the best places to visit in Dandeli, yet your children will thoroughly enjoy playing with the characters of Disney. It is located in the Lush Green teak forests of Dandeli and is located in the town.
Location: Dandeli, Karnataka 581325
Timings: 9 am to 6 pm, open all days
Entry Fee: INR 20
Supa Dam Backwaters – A Serene Getaway
Constructed over the Kali river, the Supa Dam Backwaters is amongst top places to visit in Dandeli and can be classified as a serene and tranquil getaway.There are fantastic avenues for trekking along the backwaters and setting up camp. You get a fantastic view of the surrounding forests and the lake. Click some awesome photographs in the misty and enchanting environment.
Exploration Time: 1-2 hours
Entry Fees: Free
Distance from Dandeli: 23 km
Supa Dam – ViewPoint
Renowned for its hydroelectricity plant, Supa Dam is built on River Kali and is one of the best places to visit in Dandeli. The elevation allows tourists to enjoy panoramic views of the river as well as the town. The dam is also important for the farmers as it provides enough water to irrigate the crops. The area around the dam is covered with woods and the banks are the perfect spot for a picnic. You can also go boating or just watch gushing river.
Location: Uttara Kannada, Karnataka; 25 km from Dandeli Bus Stand
Entry fee: None
When to visit: between June and December
Dandeli Crocodile Park - The Leading Wildlife Destination
This natural habitat is home to a variety of species such as tigers, elephants, black panthers and bears to name a few. Amongst all of these, the most exquisite animal that catches the eyes are the mugger crocodiles (Indian crocodiles) at Crocodile Park, Dandeli. These are the prime reptilians in the region which are also a stunning tourist attraction. The park comes under the Dandeli Wildlife Sanctuary which is recognized by the Govt. of India.
Location: Uttara Kannada, Karnataka; 5km from Dandeli Bus Stand
Entry fee: INR 25
Timings: 9 am to 6 pm, open all days
When to visit: All Seasons